Virtual Call Center Software | Reviews And Free Download
virtual call center software free download, virtual call center software reviews, best open source free training virtual call center software.
Virtual Call Center Software – Introduction
Gone are the days when Call center agents need to attend to customer complaints one after the other receiving millions of calls and emails. Virtual Call Center Software has solved this needs of customers effectively. There is a virtually countless tools and applications that are used on a daily basis to automate the activities of these call center agents provide better customer service consequently.
In this article we are going to discuss and review the best open source virtual call center softwares that business owners can use to effectively manage customer services and strengthen customer relationship.
The call center softwares we are going to review here are all free and open source however Open source call centre software does not necessarily mean that they are at no cost. It only has to do with the fact that one can host the software on his or her own and run its applications independently. At the same time, one can customize the software and update it himself.
It is important that small business organizations go with free and open source virtual call centre software for the reason that they can be sourced directly from dedicated providers with full flexibility and customizability.
See Also: Top Software and Online Tools to Extract Texts from Images
Despite being free or cheap, the software is packed with high quality services across to maximize effectiveness. It is very important that as a starter you should look out for extra or recurring cost that might be associated with the open source call center software you are acquiring.
What is a Call Center Software?
A call centre software is a unique program which allows companies to provide assistance to their customers. It cuts down the stress of customers contacting company executives and customer care service through voice calls and messages.
As of Now, the invention and use of virtual call centre software has made it easy for firms and organisations to control customer care service through live chat, social media posts, emails and all other channels.
Virtual Call centre software has not only helped customers in getting a quicker services but also lowered the load on agents handling customer services as they can now narrow down incoming and outgoing calls, track relevant call metrics and upload automated scripts to solve frequent complaints by customers.
The basic features of call center softwares are:
Enhanced Interactive Voice Response (IVR)
Improved functionality with Call Centre Management System
Call are distributed automatically
They allow performance evaluation
They allow the use of specialized codes
Allows customer to leave message for the call centre executive
Best Virtual Call Center Software For Upcoming Businesses
Below is a list of the best and top open source virtual call center softwares that you can utilize to improve the customer service experience of your customers with their features, pros and cons, and also prices if their is any.
All you have to do is go through them in details and make a pick of which one fits best for you business of company.
Bitrix24
Bitrix24 is a popular open source virtual call center software that offers a wide range of services ranging from web development to client management. It provides an effective tool you may need for quick and efficient communication with your clients. It runs a free package of 5gb of space and unlimited users as well as paid packages from a basic plan of $39/month for 24gb and 5 users, standard plan of $79/month for 100gb and 50 uses, and a professional plan of $159/month for 1TB and unlimited users. (See more about pricing here).
Features of Bitrix24
HD video calls and conferences
Chats
Worktime tracking
Lead acquisition
Lead management
Sales automation
Workload management
Task templates and automation
Visual project management
Telephony
Live chats
Contact forms
Website builder
Online Store
Pros
Cons
> All required documents can be arranged and accessed in one place.

> Bitrix24 makes management of call center services seemingly easier especially for small businesses.

> Each member can make use of activity stream to track their progress and update the status of their tasks
> No option to view EML files.

> In some cases, no usage of account for long stretches of time may lead to deletion of data associated with the account.
best virtual call center software
Free Download Bitrix24 Below.
VMukti 1.1
VMukti 1.1 is an open source virtual call center software with a complete call center solution which supports both Inbound and Outbound Call Centers. Built with an open architecture and supporting common standards (ITU, IETF standards) it eliminates the need for proprietary hardware and software.
See Also: How To Connect Android Phone Screen as PC Monitor | Quick Guide
It has all the necessary features to go beyond providing value to customers with its robust and demand-driven features. Efficient call handling, Configurable Interactive Voice Response System, Automatic Call Routing (ACD), Voice Logging/Recording, Authentication, Conferencing, Data base screen pops, Predictive dialing, Answering machine detection and detailed statistics allow for data based decision making and action.
Features of VMukti 1.1
Highly Customisable
Ease in Integration
Highly Cost Efficient
Support for any type of CRM
Built in Soft phone
Improved quality of audio (Windows)
Support for multiple recording servers
Ability to listen to agent live from Manager
Improved Network view
Improved Agent, Agent Group and Queue reports
Desktop Monitoring of the Agents
Pros
Cons
> This software has a predictive dialler, resulting in less waiting time.

> It's a web-based call centre solution, removing the need for investment in hardware.

> Remote access via a web browser is possible.
> This call centre software is compatible only with windows OS.

> Mobile version of the software is not available.
Free Download VMukti 1.1 Below.
GOautodial
GOautodial is a 2007 business grade open source multi channel virtual call center software designed and built for businesses of all sizes.
It features inbound, outbound (predictive + preview) and blended dialing, webRTC, REST APIs, real-time dashboard, reports, analytics and a lot more. it is developed using proven open source technologies.
GOautodial unlike Bitrix24 has no free plan but a 30 day free trial. The paid plans are not that expensive though, they are; GOcloud Starter for $24/month with 5 users, and GOcloud Premium for $29/month with 6 users.
See Also: Top 10 Programming Languages to Consider in 2021
Features of GOautodial
Flexible
Reliable
Secure
Predictive dialler
Inbound IVR and ACD
Live chat
Email
Reports & analytics
Multi-language
Pros
Cons
> Easy to use CRM interface

> Cloud based service improves functionality
> Limited compatibility with few softphones.

> Sometimes the software's features may suffer from connectivity issues.

AVOXI
AVOXI is an Intentionally built open source virtual call center software aimed at improving customer experience. AVOXI's virtual call center software is the flexible, affordable, and easy-to-use cloud contact center platform for global business. It helps business owners manage call center agents, phone numbers, customer service metrics, call routing rules and more from anywhere with an internet connection.
AVOXI offers a free plan called Launch and two premium plans, contact for $19.99 and Engaged Enterprise for $39.99.
Features of AVOXI
Phone call routing
Live call monitoring
Local Caller ID
Integrations
IVR software
Call center analysis
Voice Quality Monitoring
Remote Management
Inbound Call Routing
Monitoring & Reporting
Outbound Dialing
Affordable Pricing
Pros
Cons
> Easy to use, especially for new users.

> Exceptional support and customer services.

> Cost effective
> Dashboard issues might arise time to time.

> Voice quality may decline due to network issues.
best virtual call center software
Elastix
Elastix virtual call centre software supports unlimited simultaneous calls along with call logging and forwarding on busy or no answer. In addition, it promotes auto pickup on busy along with extensive Codec support.
Call reporting, call parking/ pickup and the support for SIP trunks/ gateways make this open source and free virtual call centre solution a must-have for small business.
The good thing about Elastix pricing and plans is that across all premium and standard plans the cost is free for the first year and then varies from the second year.
Features of Elastix
Easy to install and manage
Flexible, Secure and Reliable
Video Conferencing
Live chat
Send professional business chats
Advanced call center features and reporting
Work remotely with 3CX apps
On Premise: Windows, Linux – Virtualized or Mini PC
In the Cloud: Google, Amazon, OVH, 1&1, Openstack
Zero Admin
Bulletproof Security
Pros
Cons
> Easy to use, especially for new users.

> Exceptional support and customer services.

> Cost effective
> Dashboard issues might arise time to time.

> Voice quality may decline due to network issues.
best virtual call center software
Free Download Elastix Below
VICIdial
VICIdial virtual call center software lets your agents handle inbound and outbound phone calls as well as inbound email and customer website chat all together in the same web-based agent interface.
Features of VICIdial
ACD for inbound calls
Outbound agent-controlled, broadcast and predictive dialing
Three-Way calling within the agent application
Scheduled Callbacks: Agent-Only and Anyone
Scalable to hundreds of seats
Pros
Cons
> Call IDs can be added to specific categories.

> Useful for outbound auto dial calls.

> Improved method to schedule calls
> Some users may not find the design user friendly
best virtual call center software
OrecX
OrecX virtual call center software offers one of the most affordable, easy to install, maintain and use open source call recording software for call centers and business VoIP providers.
The Oreka call center software suite is both modular and scalable and is offered in both open-source and open-platform formats, with no installation costs and same-day ROI.
See Also: Complete Guide to Mastering Machine Learning | Beginner to Pro.
Features of OrecX
Capture and store 100% of calls
Intuitive call search and playbacks
On demand recording and live monitoring
Real time dashboard
Audit trail for compliance
Call tagging and notes
White labelling for branding
Multi search recording
Mobile phone recording
PCA/HIPAA compliant
Pros
Cons
> Easy to integrate with other voice over IP systems

> Software is suitable for beginners

> Easy to navigate interface
> Setup might require technical knowledge

> Difficult to find troubleshooting utilities for some issues
best virtual call center software
Asterisk
Asterisk is just another free and open source virtual call center software that would make an ideal customer service manager for enterprises. Asterisk call center software provides advanced modules to tackle all the tasks related to customer service. Asterisk telecommunications platform also provides low-maintenance tools which are easy to work with and can easily be integrated with telephony hardware.
Features of Asterisk
Auto Dialer
Reporting/Analytics
Call Monitoring
Telemarketing Management
Call Center Management
VoIP
Contact Management
IVR / Voice Recognition
Predictive Dialler
Pros
Cons
> Provides seamless services for large organisations.

> Easy to setup and user friendly.

> Option of customization as the software is open source
> Some users need more online guides related to software features.

> Security issues might crop up without use of additional security apps.
best virtual call center software
Free Download Asterisk Below
LiveAgent
LiveAgent is another virtual call center software is for providing excellent customer support. It is equipped with over 180 support features and also support inputs like fetching emails, Facebook comments, Tweets, contact forms, live chat or phone calls. LiveAgent Help Desk suitable for small business and firms because it is cheap and also has a free plan.
It has a pricing plan of $15/month for ticket, $29/month for ticket+chat and $49/month for All-exclusive.
Features of LiveAgent
API
Call Center Integration
Call Center Management
Call Logging
Call Monitoring
Call Recording
Call Reporting
Call Routing
Call Scripting
Call Transfer
Pros
Cons
> Easy to set-up and manage.

> Provides support requirements in a simple dashboard to track customer touch points.
> Occasional issues of email notifications stopping.

best virtual call center software
Dialfire
Dialfire is a powerful virtual call center software which enables users to turn their browser into a complete outbound call center with a preview and predictive dialer and call blending tools. It also supports custom forms, multi-step campaigns with automated workflows, real-time analytics, call monitoring and recording, and more.
Dialfire enables users to create custom campaigns with an unlimited number of data fields and a fully customizable agent screen with drag-and-drop functionality.
Pricing plans of dial fire are: Routee $10.60/month, Bouncer $5 one time payment, Kickbox durability suite $399/month.
Features of Dialfire
AB Testing
API
Activity Dashboard
Activity Tracking
Answering Machine Detection
Auto-Dialer
Automated Scheduling
Automatic Call Distribution
Automatic Lead Distribution
Automatic Outbound Dialer
Lead Capture and management
VoIP
Why you Need a Free and Open source Virtual Call Center software for your Business.
To make the most out of your customers it is very important that your business customer service is top notch and installing a virtual call center software is the best bet to achieving this feat. Some of the benefits of using a free and open source virtual call center software are:
CSR Management
Automation with Contact Centre Software
Augmented Sales
Simplified Communication with Cloud Call Centre Software
Prioritising and Channelling
Enhanced Security
Value Addition
Multi-channel Assistance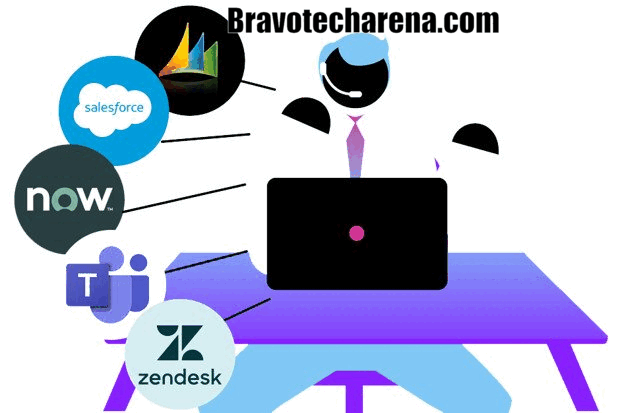 How to Choose the Best Virtual Call Center Software for your business.
To make the best choice in selecting the most valuable virtual call center software for your respective business or firm, you can follow the steps below as a guideline.
List down all the features you require for the smooth functioning of your business. The software that accommodates more features will definitely be more beneficial for your business.
You should also keep in mind whether the software providers give technical assistance or not.
Check the hardware support. Software with minimal hardware requirement should be preferred.
See whether the software is cloud-based or browser-based software. Based on the type of business you do, it is a significant point.
Choosing software would also depend on the amount of work you have, the number of the user account you require so, finalize only when the software can accommodate these for you.
When you take all these into consideration, you will for sure make the best choice in selecting the most suitable virtual call center software for your business.