How To Activate Airtel 99MB (50MB + 49MB) Free Browsing Cheat VPN
Airtel free browsing cheat vpn: In Regards to popular requests I will be dropping a new Airtel free browsing cheat for all bravotecharena viewers to enjoy. This is the latest Airtel Nigeria free browsing cheat for EC Tunnel VPN. However it is necessary to note that this Airtel free browsing cheat is not unlimited, but it's worth it because it is totally free, fast and stable.
This cheat is only for Airtel users but if you are not using Airtel don't panic because we are working hard to provide a free browsing cheat for everybody.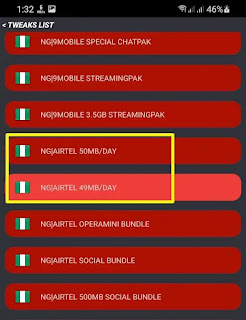 For those using 9mobile, I dropped a 2.5GB social pack cheat via HA Tunnel VPN and config files recently whereas MTN South Africa is also enjoying a 1GB free browsing cheat also on HA Tunnel VPN and config files.
To wrap it up, this cheat can be activated on a daily basis, what I mean is that when you exhaust the Airtel 49MB cheat, you can furthermore connect with the 50MB cheat. But then by the time you exhaust both cheats, you will have to wait for the next day before you can be able to reconnect again.
FEATURES OF AIRTEL 99MB FREE BROWSING WITH EC TUNNEL VPN
It is free.
It is fast.
It is stable.
It is not unlimited.
It works on all apps and browsers.
It is simple to use.
REQUIREMENTS
A smartphone.
Airtel SIM.
Stable Internet connection.
EC Tunnel VPN. DOWNLOAD HERE OR HERE
HOW TO CONNECT TO THE AIRTEL 99MB FREE BROWSING WITH EC TUNNEL VPN
Download EC Tunnel VPN.
Install the VPN.
Launch it
Set proxy port to 80.
Select either 50MB or 48MB in the server list.
Also select the same cheat as above in the tweak list.
Hit the Connect Button.
See Also: How to Activate Airtel 200MB Free Browsing with UTLoop VPN | SEP 2021
NOTE. IF YOU SELECTED 50MB THE FIRST TIME, WHEN YOU EXHAUST IT REPEAT THE SAME STEPS AND SELECT 49MB
By now you are connected to the internet using the EC Tunnel VPN and free 50MB or 49MB.
If by chance you encounter any challenge, let us know by using the comment box below.