Zoho Desk vs Zoho CRM Software 2022 | What is the Difference?
Zoho Desk Zoho Crm:
We have discussed extensively in this blog the importance of a good customers service management in businesses and enterprises.
In this article we will be comparing two customer relationship management software solutions, zoho desk and zoho crm software.
This comparison is going to focus on the basis of their respective features, pricing, integration, and their differences.
Before we comence with, it is also necessary that we first explain and bring our mind back to what Zoho desk is and what zoho crm software is.
What is Zoho Desk ?
Zoho Desk is a cloud-based help desk platform designed to help businesses of all sizes manage customer service. Zoho Desk enables users to make custom changes, such as renaming tabs, adding new departments, customizing email templates, defining business hours, and adding help folders.
Features
Key features include are:
Customer Support Ticket
Customer Support Portal
Management of Contracts
Creation or Reports
Third Party Integrations
Call Center Management
Contact Database
Customer Experience Management
Help Desk Management
Discussions / Forums
Feedback Management
What is Zoho CRM Software?
Zoho CRM is an omnichannel cloud-based customer relationship management platform that helps global businesses to take control of their business processes to build lasting customer relationships.
Read more on zoho crm software from our previous article which gives an extensive review on the crm software solution.
Integration
Zoho help desk platform integrates with Zoho customer relationship management (CRM), which facilitates the adding of customer information into tickets logged in Zoho Desk and enables service agents to know more about the customers.
Differences
In as much as this two customer service manager platform is similar in features, there are still some observable differences between them.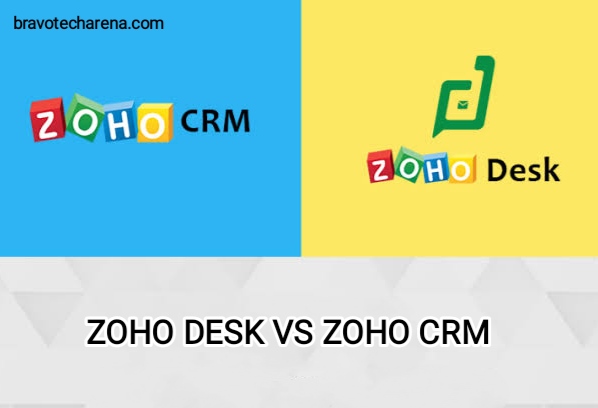 Zoho crm is best for small and medium businesses, mid-sized businesses, and enterprise level businesses whereas Zoho desk is most beneficial to customer-focused companies with passionate service teams and a large volume of frequent customer interactions. It scales to any size and fits many verticals.
Pricing
In terms of pricing the table below breaks down the different packages you can subscribe to on each and their corresponding prices.
| | | |
| --- | --- | --- |
| | Zoho Desk | Zoho Crm |
| Free | Yes | Yes |
| Standard | $14 | $14 |
| Professional | $23 | $23 |
| Enterprise | $40 | $40 |
| Ultimate | $53 | ___ |