Zoho CRM Review || Is Zoho Good for Small Business?
Zoho crm Small Business, zoho crm software Review, Features, plus pricing, zoho crm login.
The importance of a customer relationship management software (crm software) to Small Business and even large enterprise can not be over emphasized.
In this article, we will be discussing about Zoho CRM software in terms of reliability, affordability, effectiveness, customer satisfaction and finally answer the question on your mind, is Zoho CRM software good for your small business?
In our previous post we explained what a crm software is and some of the best CRM software you can employ in your company to improve efficiency.
What is Zoho CRM ?
Zoho CRM is an amazing cloud based CRM designed to attract, retain, and satisfy customers to grow your business.
Zoho Corporation is one of the most recognizable providers of software and solutions for small to midsize businesses (SMBs). Zoho has a stable of 45 Software-as-a-Service (SaaS) products designed to help run businesses from end to end.
Key features of Zoho CRM software include contact management, sales funnels, pipeline management, workflow automation, AI-powered conversational assistant, task management, managing marketing campaigns, sales forecasting, customer support & service, inventory management, reporting & analytics, and seamlessly integrating with 500+ popular business apps in a single business system.
The major focus of Zoho CRM is lead and contact management, but also sales pipeline management and purchase control. It is supported across multiple devices such as Windows, Linux, Android, iPhone/iPad, Mac and languages including English, Chinese, German, Hindi, Japanese, Spanish, French, Russian, Italian, Dutch, Portugese, Polish, Turkish, Swedish.
Features of Zoho CRM
Lead Management
Zoho CRM has been consistently rated as the one of the top lead management software solution by both customers and reviewers. With a comprehensive set of lead management features for businesses of all sizes and types, your sales reps can now convert more leads in less time, and with less effort. Zoho customer relationship management software has been able to achieve amazing conversion from lead generation through the following ways.
Using Smart web forms for lead generation
Scan business cards online
Using your twitter activities
Generating new leads from Facebook
Distributing leads automatically
Using Zoho CRM's built-in analytics functionality
Sales Force Automation
Zoho CRM automates sales processes and empowers your sales representatives to concentrate on creating and nurturing leads, closing deals, and growing your customer relationships. It enables salespeople to quickly generate estimates and speedily turn them into proposals, quotes, and then orders when a deal is signed.
Deal Management
Zoho CRM deal management software gives you everything you need to manage deals across territories and sales structures.
It enables you to focus on the right deals that have higher chances of closure, learn key information about your deals, any time, anywhereIncrease up-selling and cross-selling opportunities, analyze past deal activities and opportunities, build fully customize sales processes for your organization and create customized pipeline for unique sales processes.
Contact Management
Zoho CRM's contact management solution helps small business communicate across multiple channels, complete customer satisfaction, log meetings with customers, know when to get in touch, get social with prospects and customers, analyze emails and insights etc.
See Also: VICIdial Call Center Software | Review, Features, Price
Other Features of Zoho CRM Solution are;
Process Management
Real time analytics
Sales Enablement
Lead prediction
Marketing Automation
Google Ads Integration
Event Management
Data security
Zoho CRM – Pricing
Zoho cooperation has designed a lot of packages to keep you running your small business ranging from the free edition to their ultimate package.
For the paid plans which is as well very cheap you can pay monthly or yearly however the later helps you save up to 34% of your total payment.
Below is a more detailed information about the Zoho CRM packages, their features and pricing.
Standard Plan
The standard plan is the cheapest plan second only to the free plan. It comes with the following features:
Everything in FREE +
Scoring Rules
Workflows
Multiple Pipelines
Mass Email
Custom Dashboards
Canvas (1 view/org)
Price (USD)
Price (NGN)
$12/user/month billed annually

$18/user/month billed monthly
N3,600/user/month billed annually

N5,400/user/month billed monthly

Professional Plan
Features of the professional plan are;
Everything in STANDARD plus
SalesSignals
Blueprint
Web-to-Case Forms
Validation Rules
Inventory Management
Canvas (3 views/org)
Price (USD)
Price (NGN)
$20/user/month billed annually

$30/user/month billed monthly
N6,000/user/month billed annually

N9,000/user/month billed monthly
Enterprise
Features of the Enterprise plan are;
Everything in professional plus
Zia AI
CommandCenter
Multi-user Portals
Advanced Customization
Mobile SDK & MDM
Canvas (5 views/module)
Price (USD)
Price (NGN)
$35/user/month billed annually

$45/user/month billed monthly
N10,500/user/month billed annually

N13,500/user/month billed monthly
Ultimate
Features of the Ultimate plan are;
Everything in ENTERPRISE plus
Advanced BI – bundled with Zoho Analytics
Enhanced Feature Limits
30-day Trial
Canvas (25 views/module)
Price (USD)
Price (NGN)
$45/user/month billed annually

$55/user/month billed monthly
N13,500/user/month billed annually

N15,500/user/month billed monthly
For more details on pricing refer to zoho crm pricing page
Why Zoho CRM is good for Small Business
Looking into the features and pricing of Zoho CRM, one can easily say that that Zoho is perfect for Small Business and enterprise.
Zoho CRM is good for small business due to the following attributes,
Zoho CRM comes with a streamlined, easy-to-use interface that can help you start selling in no time.
Zoho CRM comes with a wide range of customization.
It is secure and reliable.
Zoho integrantes perfectly with tools like Zapier, GSuite, Office 365, Twilio, Slack, Outlook etc.
Migration from existing host can be achieved in one click with the help of Zwitch.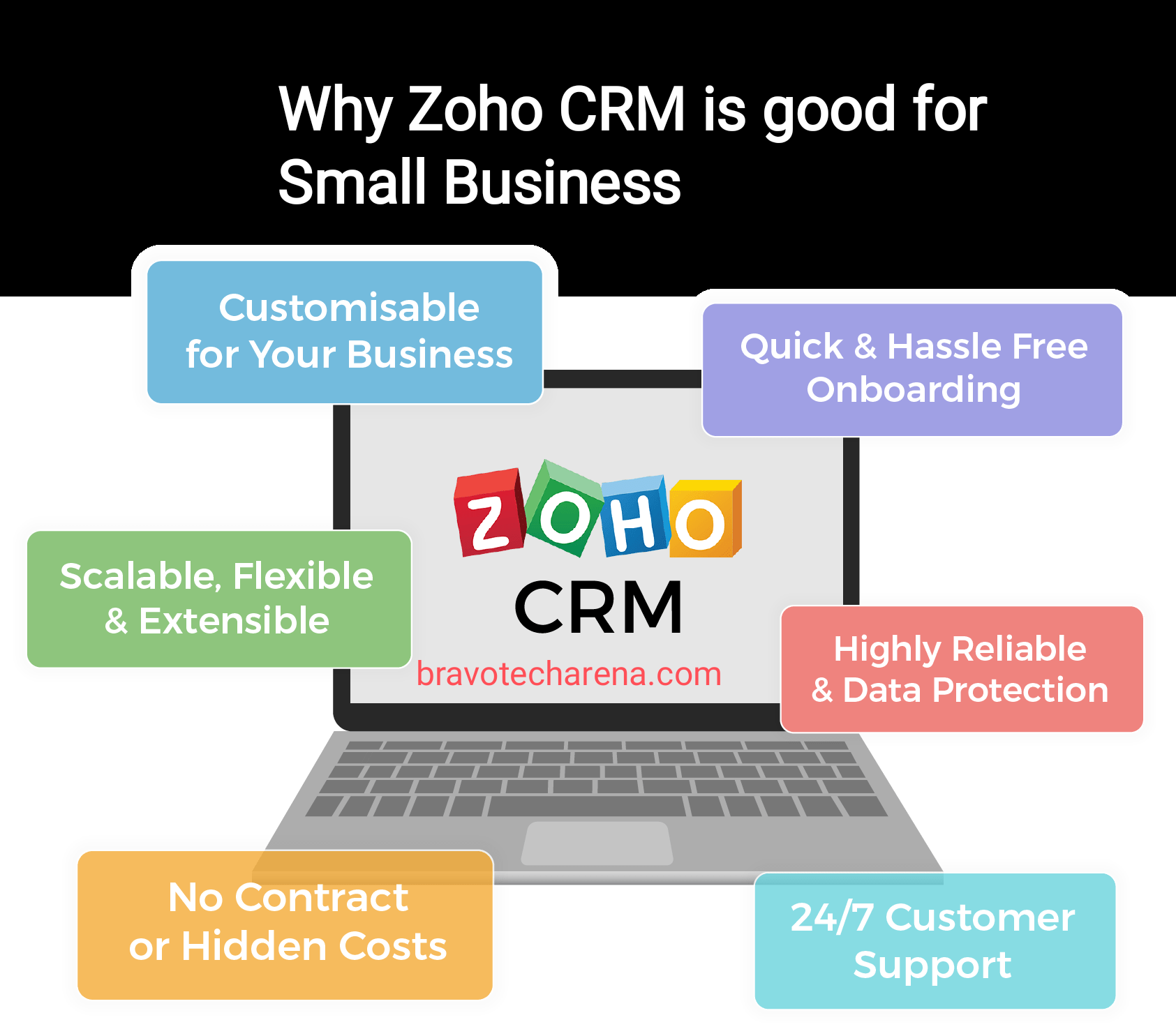 Conclusion
Zoho CRM for small business have been designed for you to be more efficient so that you can spend less time on mundane matters and more time managing leads and customers, building relationships and, vitally, improving and maintaining customer satisfaction.
The customer relationship management solution is an online cloud software, so all you need to use the software is a browser and an internet connection.
What do you think about Zoho CRM software?