Fix DirecTV No Sound Issues:
Having a clear and good sound is very important when watching any of your favorite movies on DirecTV.
However, sometimes you might experience bad sound output or issues or no sound at all on your DirecTV.
In this we are going to guide you on how to fix DirecTV No Sound Issues with some simple steps and tips.
DirecTV Low Sound?
Sometimes you will experience a situation where the DirecTV sound is low and not very loud and audible.
There are three possible reasons why this could occur. They are:
Volume is not turned up on your DirecTV device.
Volume is not turned up on your Smart TV.
Or the volume is not turned up on your external speakers.
To resolve the low sound issues on DirecTV, check each of the volume buttons to make sure the volume is turned up enough to your desired level.
See Also: How To Fix JIP Error on DirecTV
DirecTV have picture but No Sound?
Some other times, you can experience a situation where you get a clear picture and visuals but no sound at all.
To fix this DirecTV picture but no sound issues,
Unplug the DTV box, wait for like 10 seconds and plug it back in.
Make sure the volume is turned up on the DirecTV device and on the Smart TV.
Check if you are having issues with the external speakers by unplugging them and channeling the sound through your TV.
Turn off Dolby digital audio.
Use the Remote control to toggle through TV inputs (HDMI, AV etc).
Check Audio and Visual cables connecting your DirecTV device to your smart TV or external speakers.
DirecTV Sound not working?
You can watch DirecTV via a DirecTV device, or you can install the DirecTV app on your smart TV. The sound can run through the TV speakers or through external speakers which are connected via cables or wirelessly. Either the TV itself, the DirecTV device, or the external speakers can have an issue that causes the sound mechanism to malfunction.
The common solutions to this DirecTV no sound issues are:
Restart your smart TV and the DirecTV device.
Uninstall and reinstall the DirecTV app.
Turn off Dolby digital audio.
Unplug external speakers.
Check that the speaker cables are connected correctly.
Change the sound output in the TV settings.
---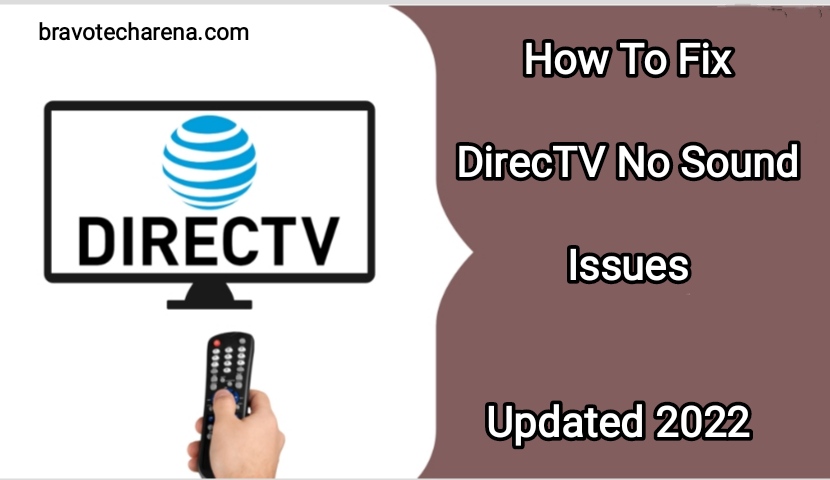 How To Fix DirecTV No Sound Issues?
Let's discuss in details the solutions you can apply to fix the no sound issues you are getting on your DirecTV below.
Make sure Volume is turned up on the TV and DirecTV device.
Although you likely have the volume turned on, it is still worth it to check if the volume is turned up on the TV. Also if you're using a DirecTV device make sure the volume is turned up on that as well. Most sound systems go through a receiver that has a master volume. So, ensure the sound volume is turned up on your surround sound system, and any other external speakers you may be using.
Turn off Dolby digital audio
There is a setting in the DirecTV menu which turns off Dolby digital audio. For some reason this method resolves audio issues. To access this setting press the Menu button on your DirecTV remote control to access the menu.
Use the arrow buttons to navigate to Settings, then scroll across or down depending on what version you're running and find the Audio option.
Select this and some more options will show up. Click on Dolby Audio and turn it off.
Uninstall and Reinstall the DirecTV App
If you are using the DirecTV app on your smart TV then uninstalling and reinstalling the DirecTV app will reset your DirecTV app and this can fix the no sound issue.
This method is kinda different depending on the operating system of your smart TV but since most Smart TVs run on Android OS (excluding Apple TV), the general procedure will work.
Go to the home screen, and put the cursor over the DirecTV app.
Long press the middle button, or the select button and some additional options will come up.
Then select uninstall or remove.
Now go to your smart TV app store and download the DirecTV app again.
Sign-in with your login details.
If you are still not able to uninstall the DirecTV app then search on Youtube for how to uninstall an app on your brand of TV. For example how to uninstall an app on a LG smart TV.
Check the Audio and Visual cables
If your DirecTV device is connected to your TV, there is a possibility that the cables are loose or disconnected entirely by accident.
The cables are typically there individually coloured white, yellow, and red. They will be plugged into the Audio In or Visual In ports of your TV or external speakers.
Remove them and plug them back in so that they're plugged in firmly. Do this on both ends of the cable. If you're using a home theater system that goes through a receiver or a few external speakers also check the audio cables for these. And ensure they're plugged in all the way, and aren't slightly loose.
Change the digital sound output on TV
A TV has a sound output setting. It's typically set to auto. But, it can be changed which can fix the sound issue. For example, it can be switched from auto to PCM instead.
Try each of the options in the sound output setting on your TV. It will be one of the settings when you go to the audio settings in the settings menu for your TV. You may want to try a different type of audio cable.
Restart the DirecTV device and the TV
Your DirecTV device may be experiencing an issue with the internal systems. Restarting it will fix this issue. So, turn it off, and unplug it at the wall. Leave it off for about 1 minute, then plug it back in and turn it back on.
Do the same for your TV as the TV can also have a similar issue. This goes double if you're using the DirecTV app. Each TV is a little bit different, but generally once it's in standby mode simply unplug it from the wall for 1 minute then plug it back in and turn it back on. On some TV's to reset it can simply hold down the power button on the TV remote until it switches off then press the power button to turn it back on.
Contact DirecTV Customer Support
If have tried all of the solutions provided in this article and yet you are experiencing the DirecTV no sound issues the contact the DirecTV customer support here for better Technical support.
FAQ
Why does my DIRECTV have no sound?
Your DirecTV might experience no sound for several reasons mentioned in this article, how to this issues has also been explained in details above.
How do I reset sound on DIRECTV?
Hold down the POWER button for 10 seconds.
Press it again to restart the receiver. (This takes approximately 5-8 minutes and will affect any DVR recordings in progress).
Restart multiple receivers by unplugging each one for 5 seconds.
Why would sound not work on TV?
It could be that the volume is turned down or muted on the TV set of the DirecTV device. Incorrect HDMI settings can also make sound not to work on TV.
How do I unlock the volume on my DIRECTV remote?
Press and hold the MUTE and SELECT keys until the green light under the DIRECTV
position flashes twice, then release both keys.

Using the number keys, enter 9-9-3. (The green light will flash twice after the 3.)

Press and release the VOL+ key.
How do I unmute my DIRECTV remote?
Press and hold MUTE and SELECT together until the light flashes three times. Press 9, 8, 1 and SELECT.
Conclusion
In this article, we have been able to guide you on how to fix and resolve DirecTV no sound issues.
Note that you have to apply each solution one at a time and check wether the issue has been resolved before you proceed to the next step.
You can also watch the video guide below for further clarifications.