VICIdial Call Center Software | Review, Features, Price
vicidial call center software, VICIdial agent login url, support, price, free download, virtual, VICIdial contact center, VICIdial customer service, VICIdial cloud, VICIdial crm integration.
In this article we will be discussing about what VICIdial call center is, the key features of VICIdial call center software, the price and the benefits of VICIdial as a cloud hosted software.
What is VICIdial Call Center?
Vicidial is a free and open source call center software that combines phone calls, instant messaging, emails and website support to provide the best customer services to customers.
It is a cloud hosted software that allows agents to choose between inbound and outbound calls according to their convenience, while skill-based routing helps assign calls and emails to the most suitable agents.
VICIdial Contact center solution enhance business productivity with a full-featured predictive dialer which can also work as an ACD for inbound calls and website chats and customer emails.
It makes outbound, inbound and blended phone call handling capabilities and can provide access to 16 different languages, with options to do translations.
See Also: Virtual Call Center Software | Reviews And Free Download
Is VICIdial Free?
Yes this question is a very regular question that every customer or company ask before getting a VICIdial service.
As an Open source software, virtual is free that means that you don't have to pay for the software.
Vicidial can be installed on your own hardware where you will not pay a dine and that makes VICIdial call center solution totally free.
However VICIdial can also be hosted on the cloud in which case you have to pay for the hosting.
To break it down, as free as VICIdial is, you must pay for the following:
Hosting
Installation
Maintenance
Development
Features of VICIdial
Flexible & Scalable
Live/Real-time Chat
API
Activity Dashboard & Tracking
Alerts/Notifications
Answering Machine Detection
Archiving & Retention
Auto & Manual Dialer
Automatic Call & Lead Distribution
Blended Call Center
CRM
Call Center & List Management
Call Monitoring, Recording & Reporting
Call Routing, Logging, Scheduling, Scripting, Tracking & Transfer
Callback Scheduling
Caller ID
Campaign Management
Collaboration Tools
Computer Telephony Integration
Conferencing
Contact Database & Management
Customer Database & History
Customizable Fields & Reports
Data Import/Export
Email Management
Event Triggered Actions
FCC & FTC Compliance
File Transfer
IVR / Voice Recognition
Inbound Call Center
Interaction Tracking
Knowledge Base Management
Lead Capture, Distribution & Management
Local Caller ID
Multi-Channel Communication & Management
On-Demand Recording
Outbound Call Center
Performance Metrics & Management
Purchasing & Receiving
Queue Management
Real Time Analytics, Monitoring & Reporting
SMS Messaging
Text to Speech
Third Party Integrations
Voice Mail
Companies that Need VICIdial Call Center Software
Education
Healthcare
Banking
Emergency Response
Insurance
E-Commerce
Newspaper Circulation
See Also: Cloud Security Technologies | Types, Risks, & Companies
Benefits of VICIdial Contact Centre Solution
It can be scaled to hundreds of logged in agents
It does not have any hidden charges
No long term contract
Dedicated dialing servers
Inbuilt call recording
Initial Setup support and 24/7 free technical support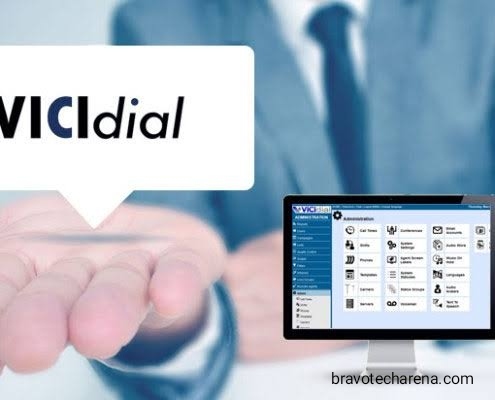 VICIdial Call Center Software – Pricing
Like I mentioned above the cost of the software is free since it is open source.
The pricing here is for the hosting service know as VICIhost.
$1,000 initial server provisioning fee (also covers the 1st month of hosting)**
$500 server provisioning fee for each additional server (covers the 1st month of hosting)**
$400 per server per month hosting fee(after first month) plus cost of minutes**
1.5 cents per minute for outbound calls as well as inbound toll calls**
2.8 cents per minute for inbound toll-free calls**
Minutes are billed as 6 second minimum with 6 second billing increments and are billed on talk time only**
All telco minutes are prepaid
$2.50 a month for each DID (Direct Inward Dial) you require**
Special rates are available for high volume customers
For more details about pricing you can take a look at the VICIhost official website here
Conclusion
VICIdial as a virtual contact or call center software is suitable for targeting the telephony and communications requirements of every business up to enterprise level.
VICIdial goes on to include automatic call recording that can be stopped or started at any time, while logging calls and call status.
I would therefore recommend this software to all call centers on a budget.