Top Web Design Mistakes that can Hurt SEO in 2021
Web design mistakes: Many bloggers have been complaining that they don"t rank on search engines without realizing that they are making grave seo Web design mistakes simply through the web design that they adopt on their websites.
Today I am going to share the top web design mistakes that many blogger make which hurt their seo badly.
TOP WEB DESIGN MISTAKES IN 2021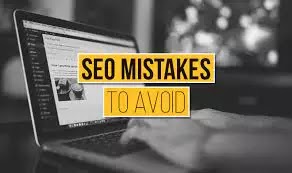 1. WEBSITE NOT MOBILE FRIENDLY
Users will visit your website from different
devices, so you have to keep everyone in mind. Nowadays, most people
like to check out any page from their mobile phones and get their work
done. Unfortunately, one of the most common web design mistakes is that
websites are not mobile-user friendly.
As we know, most consumers spend a lot of time on their phones, so
you have to make sure your website is accessible and responsive on a
mobile phone. For example, if you're running a small business and
offering a wide range of products, you have to make sure your website is
mobile-friendly.
2. POOR NAVIGATION STYLE
The navigation tab is the most important part of any web design. Your
whole structure and template depend on how well your website is
navigated. You will have customers and visitors from different regions
of the world. Therefore, it is essential to provide a memorable first
impression because it goes a long way.
Most bloggers overlook the importance of website navigation, but if
you want your articles to rank on search engines, you
have to make sure your blog is SEO optimized. When a blog is properly
navigated and your visitors don't have any confusion surfing through
it, your SEO rankings will increase.
We have all experienced this at some point in our lives, you log onto
a website, and you have no idea where to go and how to find what you
were looking for because of the complicated layout. A hard-to-navigate
website destroys your SEO; navigation is an essential component of
on-page SEO so bloggers must put as much effort as creating contents to work on it.
3. POOR LOADING SPEED
Loading speed is one of the most important things when it comes to
internet surfing. New technologies are showing up daily to help
increase visitors internet speed. It is not just fair that you save your visitor the long loading time but as well helps your SEO.
When it comes to online shopping
or any research, everyone is always in a hurry. For instance, if you're
trying to google an important term or find something, you will be in a
lot of distress if it takes time to load.
4. STICKY POP-UPS
Just like a low speed, pop-ups can be just as annoying. You visit a
page to get some important information or read an article, and you are
bombarded with unnecessary ads and pop-ups. How would you feel?
If your web design is full of pop-ups, you will find out that most
visitors leave before they can even check out your content. Pop-ups
usually show up as soon as you open any website, and that makes it
impossible for you to find out what you were looking for. It affects your SEO as well and if you care about ranking on the first page then you should avoid them.
5. INFINITE SCROLL
Nothing can be more frustrating than checking out a new website and
scrolling down through an endless rabbit hole. Have you ever clicked on a
page and gotten lost? Infinite scroll can be quite harmful because, at
some point, your users are bound to get tired of all the scrolling.
6. WEBSITE NOT SECURE
Have you ever tried opening a web page and your browser start feeding you a website not secure warning?
No one wants to go through a website that is not properly secured
because that's the equivalent of going to a bank that has no security
team.
An unsecured website can have a huge negative impact on your audience
because it's just a major turn-off when it comes to internet surfing.
As a business owner, it's your responsibility to offer a safe platform
to any visitors you get.
If you want to increase your ranking and stay on top of Google results,
you need to secure your website with an SSL certificate. You can install
it and make browsing convenient and secure for your visitors.
See Also: Google Not Crawling And Indexing Your Blog? See Instant Solution!
7. POOR CONTENT
If you have done everything right when setting up a your blog but your content suck, you are no where in the top pages of search engines because a good content is a major milestone in having a good SEO. You can make a great first impression on your users and offer an
attractive display of your web design, but if your content is weak, most
users won't bother reading it.
What are you offering to
the audience, and how is the quality? If you're selling any products or
services, you have to make sure all your content is updated and
reader-friendly. If you're putting up any information, make sure it is accurate, and your visitors can easily comprehend it.
8. LARGE MEDIA FILES
Visuals matter a lot when it comes to web design mistakes. You may fall for
high-resolution pictures for your blog, but there's a huge downside
to it. Large media files and pictures take more time to load, and a slow
loading speed is the biggest enemy of any blog.
If you want to make your web design effective, you need to carefully
choose the pictures you want to put on display. You don't have to add
pictures in every blank space because it's better to work smart than
hard. If your blog is crowded with large pictures slowing it down, it
will make your visitors hit the exit button.
9. MISSING CONTACT PAGE
This is another Web design mistakes that Most of the time, business owners forget to display any relevant contact
information on their sites. If someone is thinking of making a purchase
and has any concerns, they will need to contact the relevant
authorities. If there are no contact details, your visitors will most
likely be disappointed.
HOW TO AVOID THESE MISTAKES AND GET A GOOD SEO
Include a good navigation bar in your design
Add a search bar
Install a mobile friendly template
Optimize all images before uploading them
Minify your Javascript and CSS codes.
Remove unused codes.
Avoid Excessive Widget usage.
Don't blast your visitors with pop-ups.
Secure your blog with SSL certificate.
Make your content Appealing.
Provide attractive and verified information.
Add a Contact page at the header or footer.
 An effective web design will help you in the long run. It helps you
achieve your goals by increasing the session duration of your audience and attracts
more visitors.
Your visitors will remember the positive experience with your website
and turn to you for any future needs.